Here's how to go for some of the …
HIGHEST YIELDS
OF ALL TIME
"Your transparent and unbiased ratings will bring light to the dark and murky crypto world. I pray to God for more strength to your rating agency." — Shaji M.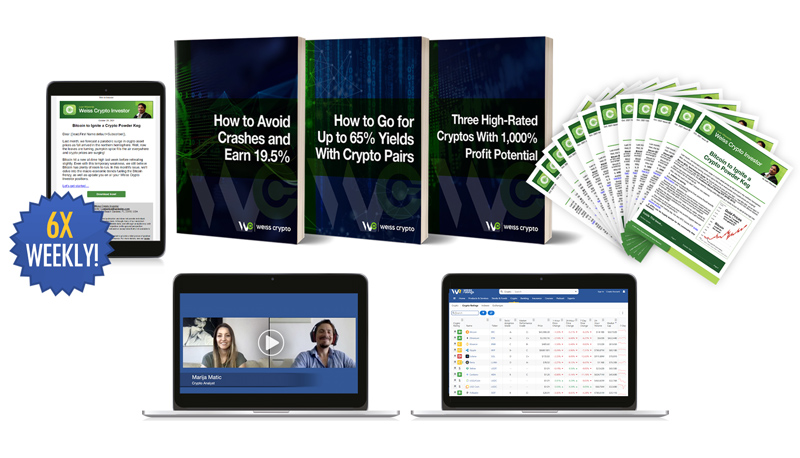 You've made a smart decision to secure a membership in Weiss Crypto Investor.
Today's sad reality is if you put $1,000 in your bank's money market account today, three measly quarters is all you'll get in interest after a full year!
That's pretty much THE standard deal being offered by banks in the U.S. right now.
Not even enough for a small order of French fries at Burger King.
Fortunately, your decision here shows that you're NOT falling for it.
Because the incredible new world of DeFi now makes it possible to get 4x higher than junk bond yields, 15x higher than stock dividend yields or even 67x higher than jumbo CD rates — all with little or no price volatility that might affect your principal.
Best of all, you're still getting in on the ground floor, because among the 126 million households with bank accounts in America today, virtually NONE are taking advantage of this 10% opportunity, let alone the far bigger yields available.
And as a Weiss Crypto Investor subscriber, we'll be on your side to keep you far ahead of the crowd.
We were the first to rate DeFi coins … and among the very first to steer our readers to the new world of high yields that DeFi offers.
A world that has grown 100-fold just since 2020 and could continue growing at that pace in the months ahead.
A world that has already generated, by far, the greatest yields and profits of any sector of any economy on the planet today. And that's still in a very early growth stage.
And a world that has the potential to grow far more in the years ahead. The global financial system has $400 trillion in assets. If the decentralized financial system can compete with or replace just 10% of that, it will have $40 trillion in assets and enjoy 400-fold growth.
All by cutting out the middlemen in financial transactions. All by simply giving billions of people around the world the opportunity to make a decent yield.
So, if you're ready to jump on this opportunity, arguably what could be the largest we've seen since the birth of Bitcoin, all you have to do is accept a risk-free trial to the Weiss Crypto Investor.
And the minute you join, you'll gain immediate access to our three bonus reports with the best yield and profit opportunities in this amazing new DeFi world.
Here they are …
Gift #1. "How to Avoid Crashes and Earn 19.5%"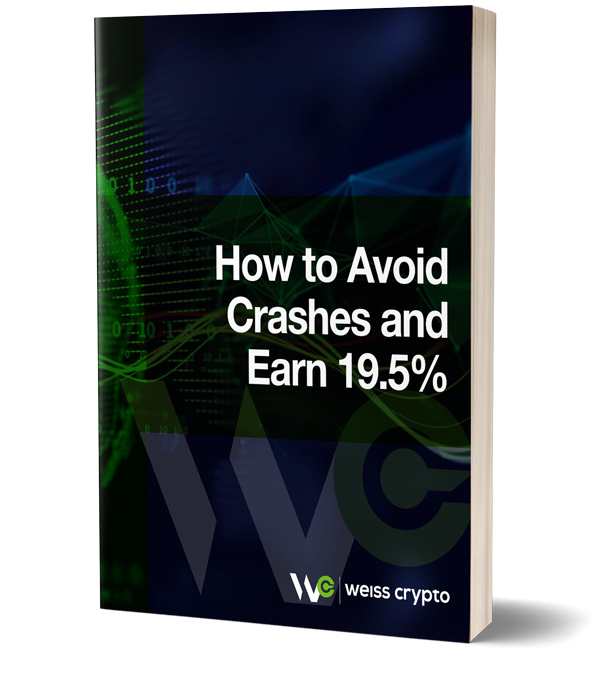 This step-by-step guide shows you how to go for the 19.5% yield Marko demonstrated. That's 15 times more than what you can get from stock dividend yields on the S&P 500 stocks. And it's 67 times more than the average yield on 5-year jumbo CDs, the highest-yielding kind of deposits offered by U.S. banks.
The exact yield you get may differ, but as Marko said, in the last six months, the yield has been relatively stable between 19% and 20%.
And because this strategy involves strictly stablecoins, without depositing any cryptocurrencies that are subject to significant price fluctuations, we believe it's even appropriate for a portion of your savings.
Gift #2. "How to Go for up to 65% Yields With Crypto Pairs"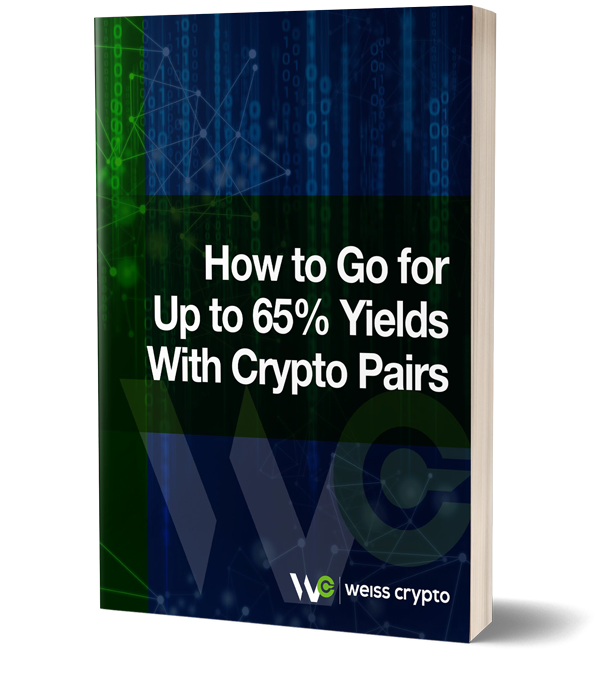 This guide is not for your savings. It's for investment funds you can afford to risk. But by simply taking this extra step, you can aim for even higher yields, ranging from about 35% to 65%. Plus, on top of that yield, the variable-price coins can swing up and down in value. In the past, some investors have benefited from large capital gains. Of course, losses are possible too.
All this is very possible with the crypto pairs Marko demonstrated for you. Half your money goes into stablecoins; the other half goes into variable-price coins.
Gift #3. "Three High-Rated Cryptos with 1,000% Profit Potential"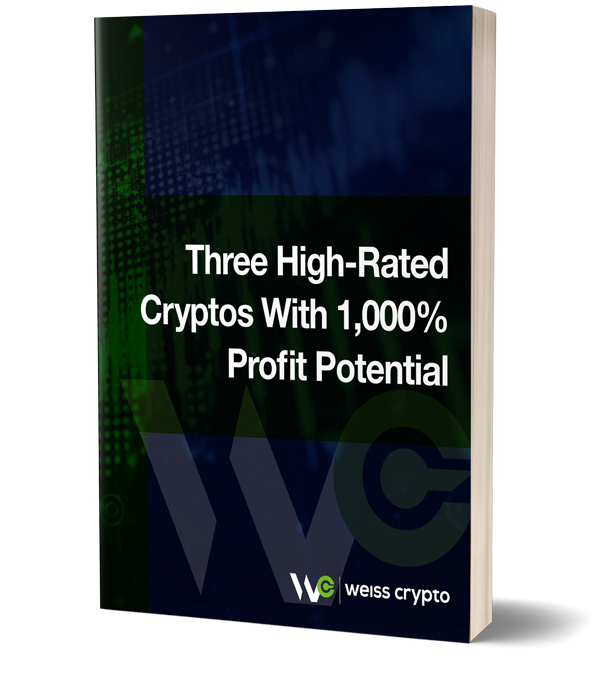 This guide is for your speculative funds, money you can afford to lose, to take advantage of the big profit bonanza available with our highest rated cryptocurrencies.
As I mentioned earlier, our lead crypto analyst, Juan Villaverde, recommended Bitcoin in April of 2019 and last I checked it had surged as much as 999.9%. Almost 1,000%.
Ethereum, which he recommended in April of 2020, surged 1,8341,921%.
And Cardano, which he recommended in November of 2019, surged 5,522%.
To give you some context, among the trades Juan recommended closing in 2021 — or recommended holding through the end of 2021 — three were losers with an average loss of 30%. And 19 were winners with an average gain of 689%.
The best cryptos to buy today are not the same. But Juan names them for you in this special report.
Normally, each of these three reports retails for $79.
But you get them at zero cost when you accept a trial to our flagship newsletter on cryptocurrencies, Weiss Crypto Investor.
$522 in value and savings all FREE with
your money-back, guaranteed membership
in Weiss Crypto Investor
To make it as easy as possible for you to find what we believe are the best cryptos in the DeFi revolution, we have drastically reduced the membership costs of Weiss Crypto Investor.
Normally, one year of Weiss Crypto Investor retails for $129.
But you can join today and receive 12 monthly issues and many extra benefits for just $39!
That's more than 70% off … and just over 10 cents a day!
Access the only cryptocurrency
and crypto stock recommendations
based on scientific crypto ratings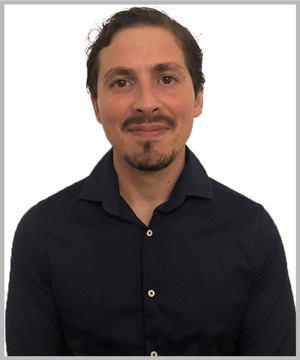 Each month, Weiss Crypto Investor brings you fresh opportunities to go for high yields and what we believe are best cryptos from the brightest crypto experts I've ever met.
For yield opportunities, we tap Marko Grujic, the DeFi expert you met today.
And for our newest investment opportunities, Juan Villaverde is the man. Juan is the lead architect of our crypto ratings model. He's also the expert who recommended Cardano back in December of 2019 for pennies and at its peak helped investors have a chance to make 54 times their money — and counting!
Every month, we will alert you to stablecoins that offer the highest yield AND to variable-price coins that could be poised for growth.
We'll also warn you away from hyped-up cryptos that look good on the surface, but you shouldn't touch with a ten-foot pole.
And each month, you'll get Juan's latest forecasts about the broad crypto market, plus what he thinks are the hottest recommendations right now.
For just $39 you can look forward to:
12 monthly issues of Weiss Crypto Investor — Which cryptocurrencies to invest in now and which ones to stay away from. In-depth market analysis. Discussions and overview of new profitable trends. And everything else you need to stay on the cutting-edge of this great money revolution.
Your 3 DeFi bonus reports.
Premium bonus subscription to Weiss Crypto Daily — Every weekday, you'll receive this timely briefing to help you navigate the fast-moving crypto market.
Our Crypto Model Portfolio — An up-to-date listing of our favorite cryptocurrency recommendations based on the only scientific crypto ratings system in the world.
The Weiss Crypto Sunday Special, Crypto Focus — our weekly video interviews with our crypto experts.
In all, you get bonus gifts and discounts worth a total of $522 when you join today.
And here's the best part …
Either Weiss Crypto Investor
helps you make money, or it's FREE!
Try Weiss Crypto Investor for 12 full months. If you're not absolutely thrilled with the money our recommendations make for you, just let me know and I'll rush you a FULL refund, no questions asked.
Even if you cancel on the last day of your membership!
And you can still keep all your special reports and videos as my gift to you.
In addition, renewal is easy, too. We'll send you a courtesy reminder 30 days before the end of your subscription. We'll give you plenty of time to cancel if you wish. And if you're good to go, we will charge your credit card at the lowest renewal rate in effect.
That way, you'll never miss a timely issue, a new opportunity or an urgent recommendation. You'll never have to respond to a renewal notice. And you can cancel this automatic renewal feature at any time for any reason.
The ball's in your court now.
If you want to escape the world of near-zero interest rates …
If you want to protect the value of your savings from surging inflation …
If you want to be a part of this great money revolution to help secure your wealth far into the future …
Make the right decision and take the next step now …