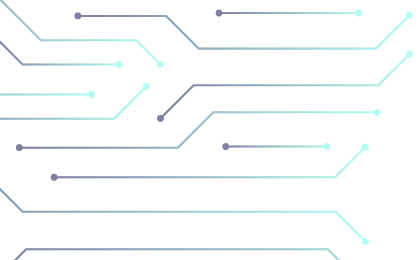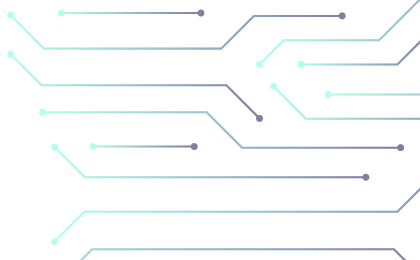 Here's How to Take Advantage of …
CRYPTO'S FOURTH BIG BOTTOM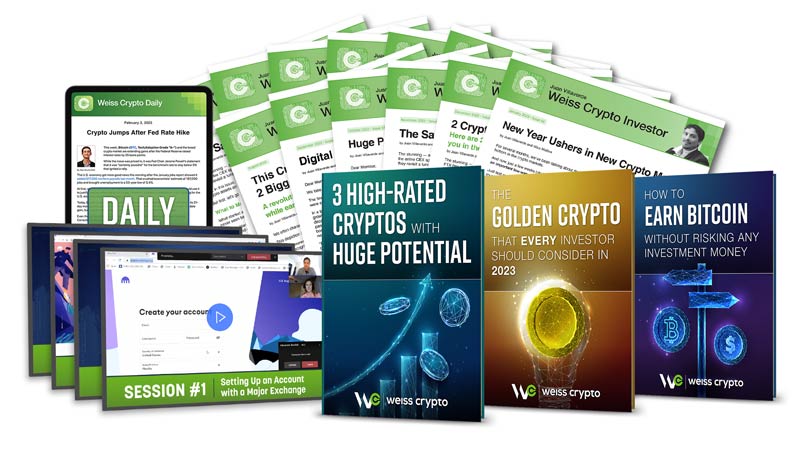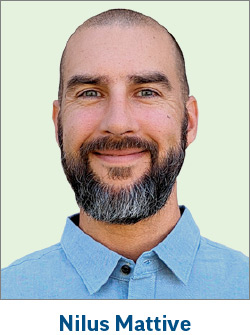 You've made a smart decision to secure a membership in Weiss Crypto Investor.
Most investors are completely writing off the entire crypto market right now … just like almost everyone ignored the whole technology sector in the wake of the Nasdaq collapse back in the early 2000s.
Fortunately, your decision here shows that you're NOT making that mistake.
Because as you now know, even super investors like Warren Buffett missed out on making hundreds of billions in extra profits because they waited too long to buy investments like Amazon and Apple in the wake of the Dot-Com Bubble.
And today's crypto market reminds me a lot of that situation — from the rates of adoption to the similar price collapses to all the mainstream skepticism … in some cases from the very same people who later ended up buying in years later!
Moreover, the very same ratings model that identified Apple as a "Buy" soon after it bottomed …
And called the last big crypto bottom …
Now says the crypto market's fourth bottom is here.
And based on adoption rates and other historical comparisons, we have every reason to believe this could be the BIGGEST bottom of them all!
As a Weiss Crypto Investor subscriber, we'll be on your side to keep you far ahead of the crowd as this whole situation plays out. So, if you're ready to jump on this opportunity, arguably what could be the largest we've seen since the birth of Bitcoin, all you have to do is accept a risk-free trial to the Weiss Crypto Investor.
And the minute you join, you'll gain immediate access to five extra bonuses …
---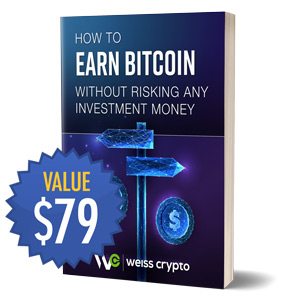 Gift #1.
How to Earn Bitcoin Without Risking Any Investment Money
This step-by-step guide gives you a bunch of different ways to start earning Bitcoin (and other cryptos) on a regular basis … without even requiring you to use any of your own investing money.
In at least one case, the crypto even gets accrued on a daily basis!
Better yet, it is possible to stack at least three of the strategies on top of each other so you can get the maximum amount of crypto possible.
We think all of these approaches are especially good for people who remain skeptical of the crypto markets and don't want to take big risks in the space right now.
Together?
They're a win-win for anyone who likes the idea of getting as much extra Bitcoin as possible!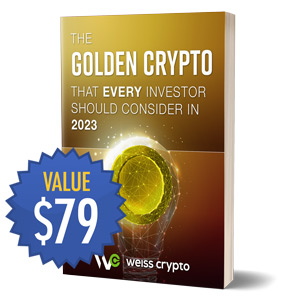 Gift #2.
The Golden Crypto That Every Investor Should Consider in 2023
This guide is about an entirely unique crypto — one that's backed by physical gold on a one-to-one basis.
That means for every dollar that goes into this crypto, $1 dollar of gold is sitting in a vault. And you can verify that right down to each serial number on each individual gold bar.
You can think of this crypto like a completely digital version of a gold mutual fund or ETF because it is run by a U.S.-based company that is regulated by major financial governing bodies and investors can buy it or sell it in practically any amount they like.
The differences?
Well, because it's a crypto, it trades around the clock 24 hours a day, seven days a week and it has extremely low commissions compared to many of the traditional choices available.
Even better — owners can request their share of the physical gold backing this investment any time they like!
It is also possible to earn a small yield from this particular crypto — which makes it the only income-producing investment in pure physical gold that we've ever seen!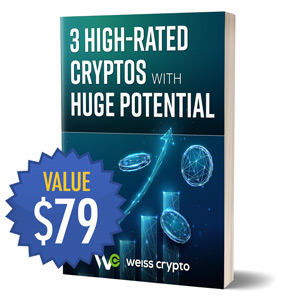 Gift #3.
Three High-Rated Cryptos with Huge Upside Potential
This guide is for your speculative funds — money you can afford to lose — to take advantage of the profit potential available with some of our highest-rated cryptocurrencies — the smaller coins that remind me a lot of names like Amazon and Apple back in 2003, just after the tech collapse.
Just to give you a sense of some of our past recommendations …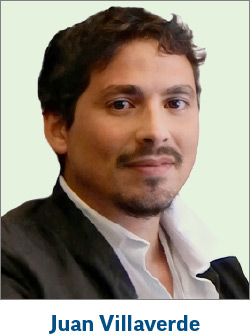 My co-editor, Juan Villaverde, recommended Bitcoin to our readers back in November of 2019 and later recommended closing that position out for a 333% gain in February of 2022 … before the recent crypto bear market started.
Ethereum, which he recommended in August of 2019, surged 1,148% before he recommended closing the position (also in February of 2022).
And Cardano, which he recommended on two separate occasions (September of 2018 and November of 2019), surged as much as 2,925% by the time he recommended selling in January of 2022.
To give you some context, among the trades Juan recommended closing in 2022, two were losers with an average loss of 25.60%. And seven were winners with an average gain of 915.73%.
The best cryptos to buy today are not the same. But we name some of our smaller favorites in this special report.
Normally, each of these three reports retails for $79.
But you get them at zero cost when you accept a trial to our flagship newsletter on cryptocurrencies, Weiss Crypto Investor.
Plus, you also get …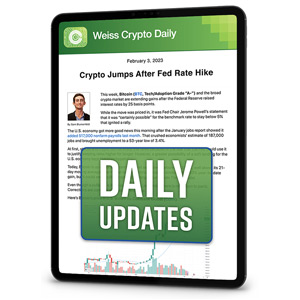 Gift #4.
A Free Bonus Subscription to Weiss Crypto Daily
Every weekday, you'll receive this timely briefing to help you navigate the fast-moving crypto market.
And last but certainly not least …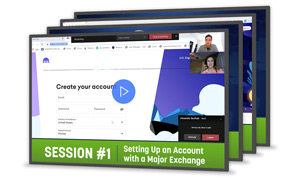 Gift #5.
The Weiss Video Tutorial Series: How to Buy Undiscovered Cryptos BEFORE Nearly All Other Investors
With this powerful bonus, you'll learn our early-bird, backdoor method for buying undiscovered cryptos! We show you exactly how in this series of three easy-to-follow videos that walk you through all the steps.
---
$516 in value and savings all yours with
your money-back, guaranteed membership
in Weiss Crypto Investor
To make it as easy as possible for you to take advantage of what we believe could be the biggest bottom ever seen in the crypto markets, we have drastically reduced the membership costs of Weiss Crypto Investor.
Normally, one year of Weiss Crypto Investor retails for $129.
But you can join today and receive 12 monthly issues and many extra benefits for just $39!
That's more than 70% off … and just over 10 cents a day!
Access the only cryptocurrency
and crypto stock recommendations
based on scientific crypto ratings
Each month, Weiss Crypto Investor brings you fresh recommendations and strategies from the brightest crypto experts I've ever met.
For example, my co-editor Juan Villaverde is the lead architect of our crypto ratings model. He's also the expert who recommended Cardano back in December of 2019 for pennies and at its peak helped investors have a chance to make 54 times their money!
Every month, Juan and I will alert you to our favorite new ideas in the crypto markets …
We'll also warn you away from hyped-up cryptos that look good on the surface, but you shouldn't touch with a ten-foot pole …
And each month, you'll get our latest forecasts about the broad crypto market and where things are going next.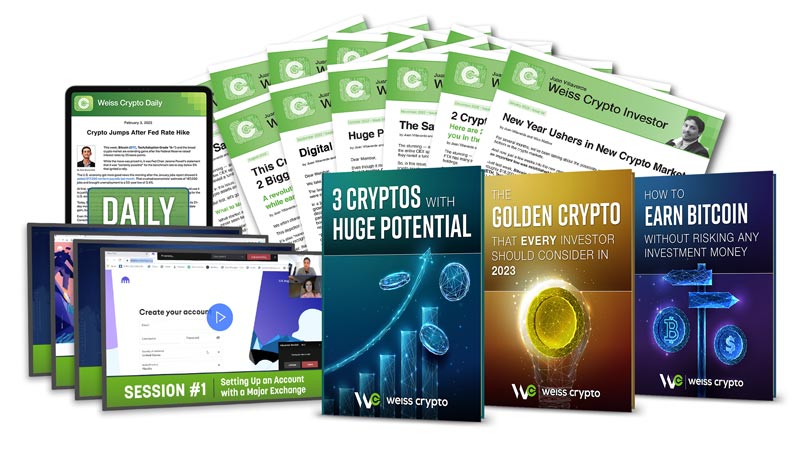 For just $39 you can look forward to:
12 monthly issues of Weiss Crypto Investor — which cryptocurrencies to invest in now and which ones to stay away from. In-depth market analysis. Discussions and overview of new profitable trends. And everything else you need to stay on the cutting edge of this great money revolution.
Your 3 special bonus reports.
Free bonus subscription to Weiss Crypto Daily — Every weekday, you'll receive this timely briefing to help you navigate the fast-moving crypto market.
Our Crypto Model Portfolio — An up-to-date listing of our favorite cryptocurrency recommendations based on the only scientific crypto ratings system in the world.
Plus, The Weiss Video Tutorial Series: How to Buy Undiscovered Cryptos BEFORE Nearly All Other Investors that introduces you to our early-bird, backdoor method for buying undiscovered cryptos!
In all, you get free gifts and discounts worth a total of $516 when you join today.
And here's the best part …
Either Weiss Crypto Investor
helps you make money, or it's FREE!
Try Weiss Crypto Investor for 12 full months. If you're not absolutely thrilled with the money our recommendations make for you, just let me know and I'll rush you a FULL refund, no questions asked.
Even if you cancel on the last day of your membership!
And you can still keep all your special reports and videos as my gift to you.
In addition, renewal is easy. We'll send you a courtesy reminder 30 days before the end of your subscription. We'll give you plenty of time to cancel if you wish. And if you're good to go, we will charge your credit card at the lowest renewal rate in effect.
That way, you'll never miss a timely issue, a new opportunity or an urgent recommendation. You'll never have to respond to a renewal notice. And you can cancel this automatic renewal feature at any time for any reason.
The ball's in your court now.
But I really hope you decide to join us … enjoy all of our research … and THEN make your final decision once you've seen everything we have to offer …